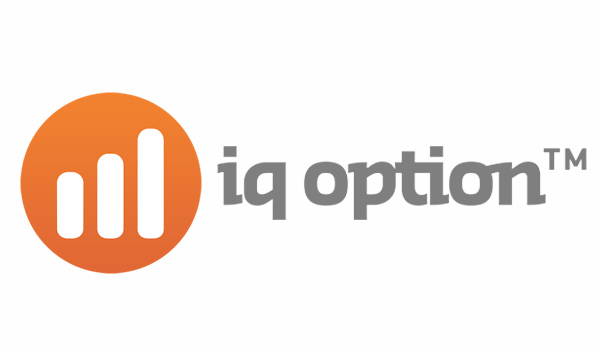 Broker Name: IQ Option
Platform: IQoption
Founded: 2013
Return/Refund:  up to 90% *Return and 0 to 10% Refund (Amount to be credited to account for a successful trade)
​Countries Not Accepted: United States, Japan, Israel, Turkey, Belgium, Russian Federation, Australia, Canada, Germany, Italy, Netherlands, Romania, Spain.
Number of Assets: over 300
Regulated: Yes, Licensed
Demo Account: Yes
Deposit Options: Credit card, wire transfer, Skrill, Qiwi, WebMoney, CashU, iDeal, Fasapay, Neteller and Boleto
Language: English, Italian, Spanish, Russian, French, Portuguese, Turkish, Dutch, Chinese, Indonesian, Korean, Swedish
Minimum Deposit: $10
IQ Option is a unique broker using their own custom built binary options trading platform. At the moment, they are using 4.0 version. The platform offers speed trading in increments up to 5 minutes. Their binary options go out 1 hour in 15 minute increments. They have  over 300 assets available for trading.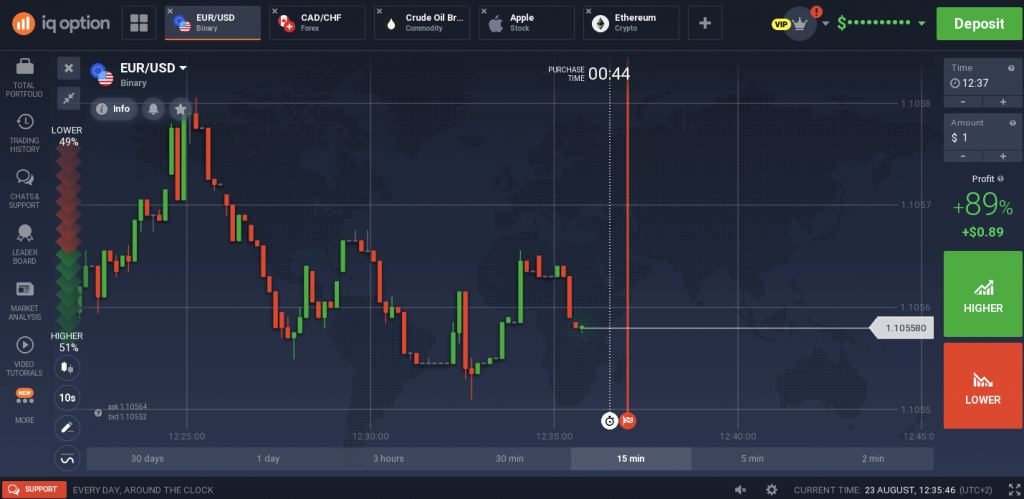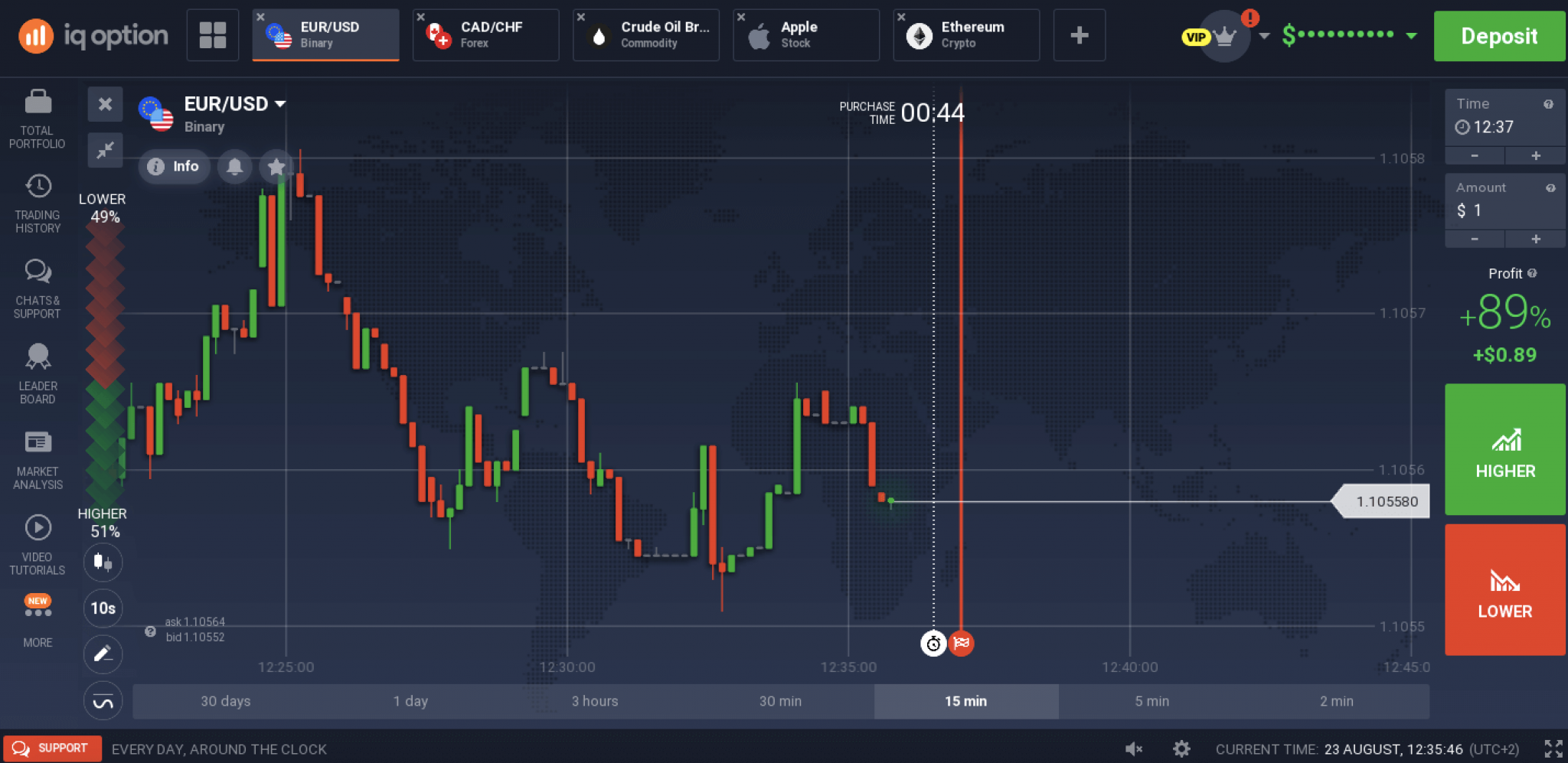 Actually it is wrong to call IQ Option trading solution "whole page", actually it is just a part of the user platform solution that iq option offers. When users login into IQ Option they are immediately taken to the trading platform and all other links and tools are accessible form the left side menu.
On the right side is the trading navigation pane where users can place trades while the center is reserved for the huge graphing tool.
Users can choose between two types of binary options on the left side. The small bubble with the number next to each type shows the number of open positions. Graph controls need some time getting used to since zoom and move controls work independently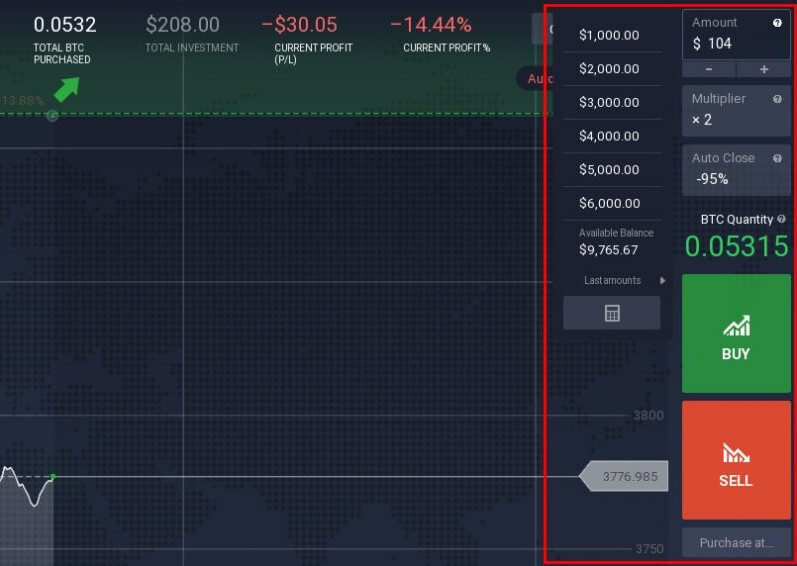 IQ Option offers clients the ability to trade options and CFDs using their proprietary mobile application.  The mobile app works on Android and Apple iOS operating systems.  It is available for download via the Apple Store or on Google Play.
The app is very easy to use and has a very clean and intuitive graphical interface.  It has the same charting options that you can find on their regular web-based platform as well.  
By using the IQOption mobile app, you can:
Execute Trades
Check Account Status
Stay Updated With Market Developments
Use Charting Tools
Setup Customizable Alerts and Push Notifications
And More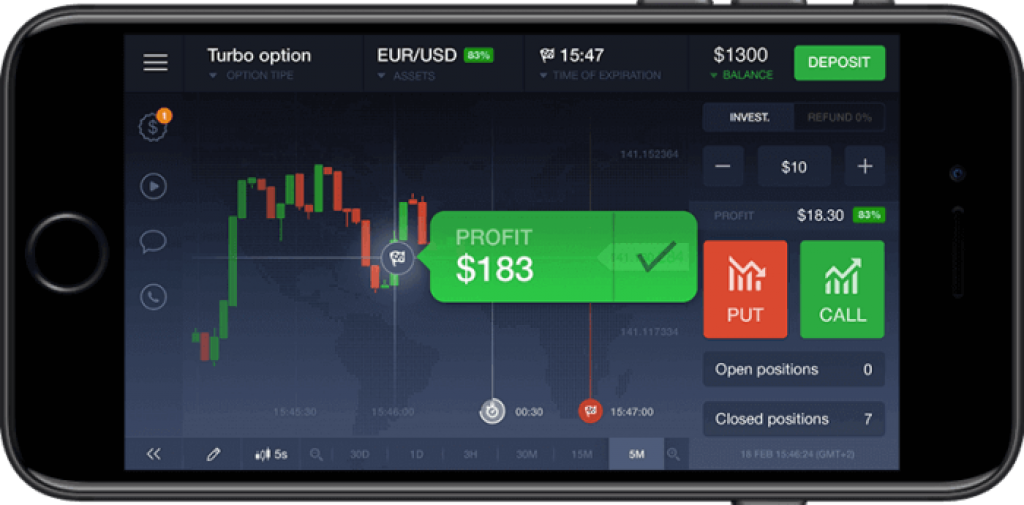 IQ Option ​has 2 different types of trading accounts to choose from: Standard and VIP.
For a standard trading account, just a $10 minimum deposit is needed.  Unlike other CFD providers, there are no restrictions on trading functionality.  You get access to over 350 ​assets to trade as well as 24 hour withdrawal​ processing.  You also get access to several trading competitions that are held on the IQ Option platform (only applies to customers outside of the EU).
A VIP trading trading account is only available for clients that deposit $1900 or more within a 2-day period.  A VIP account includes a personal account manager, monthly reports on your trading records, and 3% in additional returns.  VIP accounts are only available to customers outside of the EEA.
​Like many brokers, IQ Option offers a free demo account that includes $10,000 in virtual money.  There is no limit on how long you can use the demo account for.  This offers you the ability to test different trading strategies and to get familiar with the platform before investing real money.  If you run out of virtual funds inside of your demo account, you can have them replenished so you can continue practicing.  
You don't have to register or give out your personal information in order to access the IQ Option demo. This is not always the case with other brokers, as a lot of companies require you to provide at least an email address in order to gain access to their demo.  
№ OF ASSETS AND EXPIRY TIME
Like all binary options brokers, IQ Option offer traders the opportunity to trade in forex, commodities, stocks and market indices. While the range of assets covered by IQ Option is only slightly more than 300 different assets, they make up for this deficiency by providing the highest possible returns in the industry.
At present, IQ Option's trading platform supports followed types of option contracts namely: classic Call/Put binary options, Turbo options and classical option. The Call/Put binary options are options which have their expiry times in excess of 15 minutes. Turbo binary options on the other hand are binary options with their expiry time ranging from 30 seconds to 5 minutes. Classic options work a lot like like binary options where you choose the stock you would like to trade on and pick a direction in which you believe its price is going to go, but There's one major difference between these two instruments. With Binary Options your profit per deal is fixed, while with Classical Options it's virtually limitless, because your profitability increases as long as the price keeps on moving in the selected direction.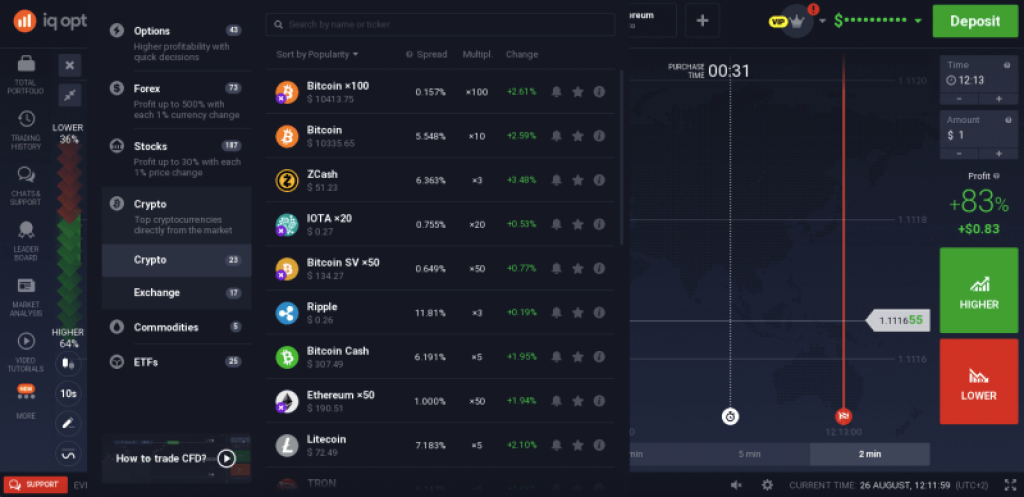 In order to help you get the most benefit from trading with IQ Option, the broker offers a variety of charting tools that can help you formulate a successful trading strategy.  The 5 charting tools available on IQ Option include Area, Line, Candles, Hollow Candles, and Bars.
IQ Option charts are located at the bottom left of your chart. Clicking on the candles symbol will display all four charts available. All you need to do is select the one that suits your trading style best.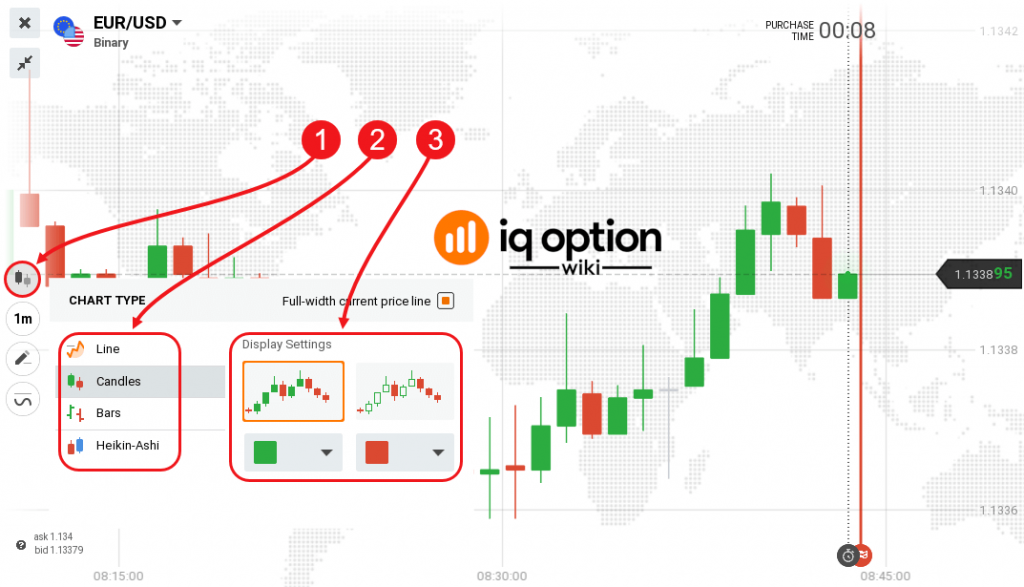 Commissions Effective return
With a maximum payout ratio of 90% (Amount to be credited to account for a successful trade), the payouts offered by IQ Option are one of the highest in the industry. At present, no other binary broker can come close to what is being offered by IQ Option.
Due to regulations set forth by the CySec, IQOption.com doesn't offer any type of deposit bonuses.
However, this broker does offer trading competitions that allow you to compete against other traders for prizes ranging from $100 all the way up to $100,000.  Unfortunately, these trading tournaments aren't available for citizens within the EEA.  Standard accounts can join the competitions for a fee, while VIP accounts get free entry.
IQ Option has various forms of customer support including email, telephone, and online chat.  There are currently about 90 customer service support representatives available to assist you.  
Users can contact the staff via phone, email, live chat and Skype.
Website's live chat is available in trading room and is supported in: English, Russian, Turkish, German, Spanish, Portuguese, Chinese, Swedish, Norwegian, Korean, French, Italian, Arabic, Indonesian, and Slovak. English and Russian support available 24/7. FAQ is very detailed and will help anyone with general questions about iqoption.
For your convenience, IQ Option has toll-free phone numbers available in the following countries:  United Kingdom, Brazil, South Africa, India, Singapore, Thairland, Colombia, Australia, Mexico, Portugal, Spain, Argentina, and Chile.
For online chat support, the average wait time is an impressive 38 seconds.  For email support, the average response time is 14 minutes.  
All functions — withdrawing and depositing, as well as payment type choice are accessible trough the same control interface presented after user logs into the account.
Deposits
The minimum deposit for opening a real account with IQ Option is $10 USD/GBP/EUR. This broker does not charge any processing fees for depositing funds.  In order to make your first deposit, you will have to go through an account verification process which might require photo identification.  Some countries will have different requirements than others.

For your convenience, IQ Option offers many different ways to deposit money into your account including credit cards (Visa and Mastercard) and wire transfers.  This broker also accepts many different E-wallets including Skrill, Maestro, WebMoney, Neteller, Cash U, and Moneybookers.​  IQ does not accept Paypal as a payment method.
​Withdrawals
The minimum withdrawal amount for IQ Option is $2.  ​In order to make a withdrawal request, you will need to use the same payment method as your deposit because the transaction is processed as a refund.  Afterwards, you can choose whichever payment method you want for withdrawals.   Bank transfers may incur a small processing fee.
In order to withdrawal funds from IQOption, you'll need to verify your identity.  This verification process can take up to 3 days and is necessary to prevent fraudulent activity and to secure your account from unauthorized use.
All withdrawal requests are processed by IQ Option within ​1 business day​. If you request a withdraw to a bank card, it may require additional time depending on your bank.
One of the most unique aspects of IQ Option trading platform is the tools that they have provided traders with. For starters, traders can choose if they want their charts to be displayed as line chart or candlesticks chart. In addition, there are also various technical indicators which traders can select and apply onto their charts to help them get a better picture of the conditions in the markets. To date despite its simplistic appearances, the IQ Option's platform is the most advanced binary options trading platform ever created.
As with many of the top brokers, IQ Option has a wide variety of educational materials available to help you become a successful trader. The team offers several experts that want to help you learn how to use the platform.
IQ Option has recently came out with a product known as "Cryptocurrency Multiples".  The product basically works the same as a leveraged trade, where the price movements of an asset is magnified by a multiplier.  Cryptocurrency multiples was originally produced with the idea of Bitcoin X 100.  This essentially increased the price movement by 100X times, which created a large opportunity, as well as risk, for traders.
Due to the popularity of Bitcoin X 100, IQ Option has expanded the concept to IOTA, Ethereum, Ripple, and other cryptocurrencies.  The multipliers you have to choose from include X20, X50, and X100.  However, the cryptocurrency multipliers are only available for citizens outside of the EU.
IQ Option is one of the only brokers that offer a product called FX Options.  Currently, this product is only available for the 5 main currency pairs.
FX Options are available in regulated markets inside the European Union.  They are similar to binary options because they offer a fixed-risk investment.  You understand the potential profit and risk upfront.  Each FX Option has an expiry time and the potential profit depends on the asset's price.  Payouts can reach up to 2000% and there is a minimum trade amount of $30 for FX Options.
It's also important to know that FX Options can be sold at any time, even before expiry time is reached.  This is a useful feature that can help you lock in profits or cut losses.
Stop Loss Orders – This feature allows you to set a maximum loss that you're willing to accept on a trade. When this order type reaches the amount you specified, the trade automatically closes to limit your loss.
Multiplier Orders – This feature allows you to improve your return on investment via a multiplier.  If you set a multiplier, the price movement of the asset will increase by 20X, 50X, or 100X.  This feature can dramatically increase your profits as a result, but it can also expose you to more risk as well.
Take Profit Orders – This feature is the exact opposite of a stop loss order.  You can close a trade early and take your profit when it reaches your specified amount.
Pre-Order – This feature allows you to enter the market when an asset reaches the exact price that you specify.  Once the asset reaches that price, the trade will be executed automatically.
Absolutely not!  As of 2020, this broker has over 41 million registered users from over 213 countries worldwide.  The number of active traders is growing every year and there's no signs of that changing.  They also process more than 1 MILLION transactions per day.
At present, IQ Option offers binary traders the best trading conditions in the binary trading industry. So far no other binary brokers have been able to match their payout and rebate ratios. Their have low minimum deposit requirement and minimum investment amount terms .
IQ Option is a legit broker and one of the most reputable companies in the industry.  Their intuitive trading platform is the best around and we highly recommend IQ Option to traders of all experience levels, beginner to advanced.
General Risk Warning
​* CFDs are complex instruments and come with a high risk of losing money rapidly due to leverage. Between 74-89% of retail investor accounts lose money when trading CFDs. You should consider whether you understand how CFDs work and whether you can afford to take the high risk of losing your money. Michael
Sometimes you just feel like giving up, and I definitely felt that once, but I'm here to tell you "DO NO GIVE UP". Whenever you feel that way, it's a sign that you're close to your big win. I have been trading binary option for a few years now. Has not been easy though until I found this website that has helped me achieve my goals and dreams. Thank you! Cristiano
Great review, thanks uou. I agree you, IQ Option is the best regulated broker i have trade with. DoogieM
IQ options is a real breath of fresh air. I have tried some other scam brokers in the early stage and although i got my funds back, it was still a distressing experience. so, IQ options is really a great platform Kraig Kristen
I am really happy with IQ Options, they are really on of the best option and FX brokers out there. I really like how small the fees are, and how fast the transactions get through. I also think they have one of the best clearing services out there! adam
I mostly use IQOptions for Forex trading, and it works really well. The platform is quick and snappy, and I've never had any problems with it. Overall, I am quite happy with the service provided! Jane
I am overall very pleased with IQ Options, they have always the best website around in the forex industry, and I have never had a problem with them. The forex options are my best friends when it comes to investing! Anselmo
I learned about IQ Options from here only a few weeks ago, and oh boy am I happy I did. IQ Options has been great, and Ive made 20% profits over that time. Not very impressive, but its mine! John
I recommend IQ Options if you are looking for a trading platform. They have been great to me and have never let me down. I wish more people were recommending this website, so others stop signing up with scams! Xutos
I love Iqoption, and I am mostly impressed about their learning and tutorial tools. If you are not a expert at trading, then they have many great ways to teach you, and you can even use their demo tool to get better! MikeStock
I've had quite a good time at this broker. The fees are the lowest I've seen, and the commissions are quite reasonable. I am overall very happy about it! The website is also very fast and snappy, so there are no complaints from me!
IQ Option Review
IQ Option is a unique broker using their own custom built binary options trading platform. They are one of the best known binary brokers, and most people have reviewed it as a top-notch solution. It is more of a representation of what binary trading platforms should look like in the coming years. IQ can be termed as all-around software that accommodates all traders' needs, and it is, therefore, something that we can confidently recommend.
PROS
Good variety of options
Excellent returns
Interface is very friendly
Smallest minimum investment we have ever seen
Regulated
Stand-alone demo account
Interactive learning tools
CONS
Lack Of Localized Telephone Support
More Assets Should Be Added To Their Asset Index