TradeRush
TradeRush Review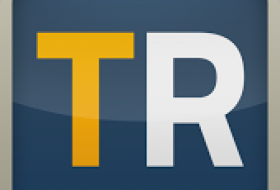 TradeRush has useful tools available for traders which allow for easy trading. There are also some good options for trading. Also, it's important to note that they're constantly improving their site and services, so that's something to look out for.
00000
Broker Name: TradeRush
Platform: SpotOption
Founded: 2011
Bonus: can go as high as 100%
Return/Refund: 65-75%/0-10%
US Traders Accepted: Yes
No. Of Assets: 61
Regulated: No
Demo Account: No
Deposit Options: WireTransfer, CashU
Language: 8 including English, Spanish, Russian and French
Minimum Deposit: $200
Trading Platform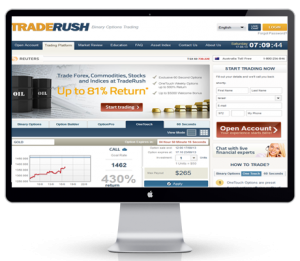 If you're going to use TradeRush, you're going to use the highly-popular SpotOption trading platform. This means that the platform is web-based, so you don't need to download any tool or software on your computer. Just access the site and you can do all your trading there via the trading platform.
User Friendly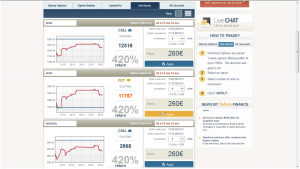 Since it's on the SpotOption platform, you can be sure that it's very user friendly. Actually, this is one of its main strengths. The fact that it's very user friendly makes it very popular with new and expert traders alike.
Unlike other outdated sites, you'll be pleasantly surprised to see how modern the website is. However, this is not to say that it's confusing. On the contrary, it's very easy to navigate around the site. You can really say that it was designed to make things very easy for traders.
Looking for information is also very easy. You can access the information that you're looking for in just a click or two. On that note, there's an unnecessary action that you need to do if you need to check the information about an asset that you're looking at. You need to go to the asset index first before you can click the asset in order to find more information about it.
But overall, TradeRush gets solid points for being user friendly.
No. of Assets and Expiry time
When it comes to the number of assets that you can trade, it's safe to say that it's about average compared to other brokerages. There are only 61 tradable assets. For some traders, this is more than enough. Of course, there are some traders that are looking for more, and other brokerages have more.

As for the breakdown, you can trade 13 currencies, 21 stocks, 19 indices and 8 commodities. Only you can decide if it's enough for you or not.
Like a lot of brokerages, the expiry time of TradeRush can be anywhere from 60 seconds to the end of the day. This is depending on the asset. On the downside, there's no Touch Options feature if you're trading during the weekend.
Commissions, Support (Customer Service) and Effective Return
You're not going to pay any fee when you first make a deposit or buy options. Withdrawals are also free provided that there's only one transaction per month. For succeeding transactions, you need to pay $30 per withdrawal.
You have three options for support – by phone, email or chat. Unfortunately, even with the available languages, there are only two international numbers – US and UK. You can send an email from anywhere in the world, but if you're like most people, you prefer live help so it's good to know that there's a live chat option. However, it's not available 24/7.
Overall, support is pretty average. You can't say that it's the best in the industry.
TradeRush is pretty weak for effective return, especially for In-The-Money with a return of only 65% to 75%. The average for most of the assets is around 70%. For Out-of-Money refund, it's around average at 0% to 10%.
Deposit, Payment and Bonus
You can say that the minimum deposit is an industry standard at either $200 or €200. You can make a deposit via a wire transfer, Cash-U, credit card, and more. You can also make withdrawals via these deposit options. Of course, there are fees involved when making withdrawals.
As for the bonus, new traders can expect a bonus that can go as high as 30%. Experienced traders, on the other hand, will be happy to know that they can get a bonus of as high as 100% if they make a big investment of something that's over $500.
Website Extras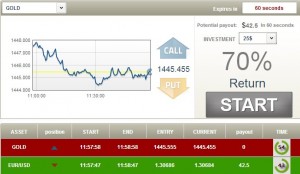 TradeRush has strong extras especially the 60 seconds options trading. With this extra, you can trade anything from $5 to $100 on just one option. The expiry time for this option is 60 seconds. This trading option is relatively new in the industry so it presents a new challenge for traders.
As for the other extras, there's a pretty informative tutorial. There's also an updated Yahoo news bar to help you stay up to date. For advanced charts, you can also take advantage of the Pro Trader and Option Builder.
On the downside, there are only a few Touch Options.
TradeRush has useful tools available for traders which allow for easy trading. There are also some good options for trading. Also, it's important to note that they're constantly improving their site and services, so that's something to look out for.
If you're an experienced trader, you'll feel that the returns are quite low especially when stacked up against top brokerages. In addition, the withdrawal process needs some improvements as well. Your withdrawal amount cannot be more than the initial deposit. This is a weird rule that will surely annoy a lot of traders.
Conclusion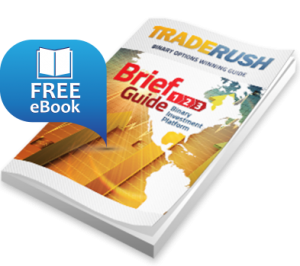 It's a relatively new option for traders but it has already cemented its place as one of the most preferred platforms. This is mainly because it's showing improvements which are proofs that they want to provide a good experience to their users. TradeRush is giving away FREE ebook – you can download it from their website.
It's also very user friendly so new traders won't have to be overwhelmed. It also has an impressive list of extras which help it stand out from the rest. Since the top brokerages are basically offering the same, it's the extras that will propel a platform to the top. Speaking of platforms, the SpotOption platform remains strong and user friendly. The fact that it doesn't require any downloads is appreciated by traders.
Check out the withdrawal process and limit first to see if it's a big deal for you. If it's not, then TradeRush is worth a try.