Titan Trade
Titan Trade Review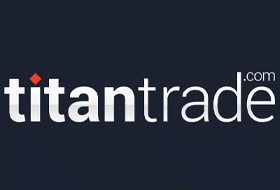 TitanTrade is a web-based binary options trading platform created by industry veterans aiming to create a more comfortable and diverse binary options trading experience. They offer a wide range of assets, including stocks, indices, commodities and currencies.
00000
Broker Name: Titan Trade
Platform: SpotOption Trading Platform
Founded: 2013
Return/Refund: up to 85% Return and 0 to 10% Refund
US Traders Accepted: Not Accepting Traders from the US
Number of Assets: over 200
Regulated: No
Demo Account: Yes with request after signup
Deposit Options: Credit Cards, Wire Transfer and Skrill
Language: English, French, Spanish, Italian, Arabic, Russian and many more.
Minimum Deposit: $250
Mobile: Yes
Trading Platform
TitanTrade  is one of the newest Binary Options Brokers operating on the SpotOption 2.0 Platform. The new platform provides up to 4 different page views as well as advanced color charts.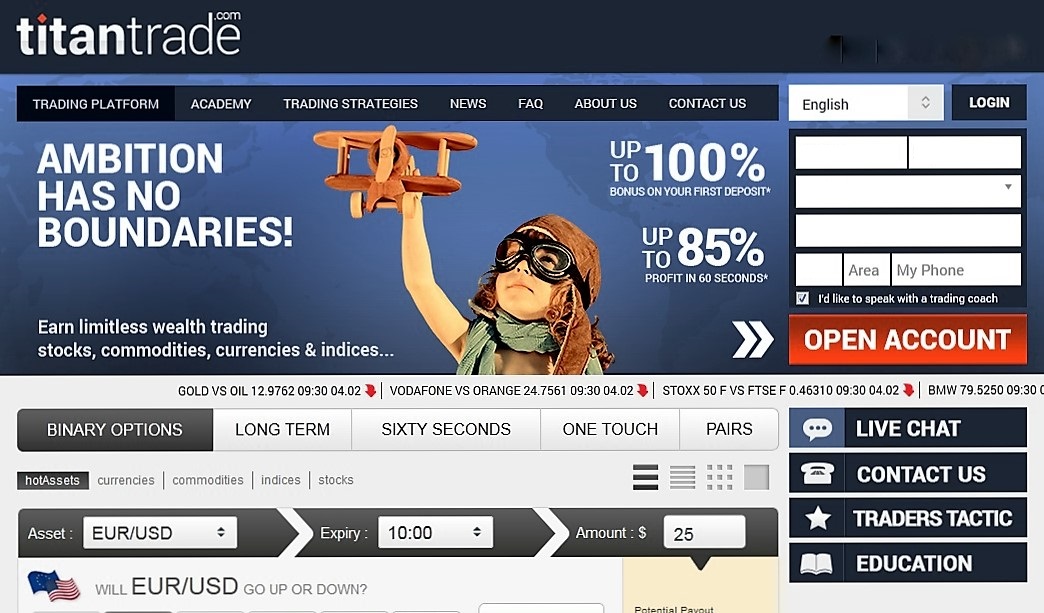 User Friendly
The Titan platform offers multiple screen views for placing orders.  You can view one order box with an enlarged advanced chart. There are screens to view 4, 10 and 16 different order boxes with different chart sizes and options. This variety allows great functionality depending on the type of trader and the amount of orders you follow at one time.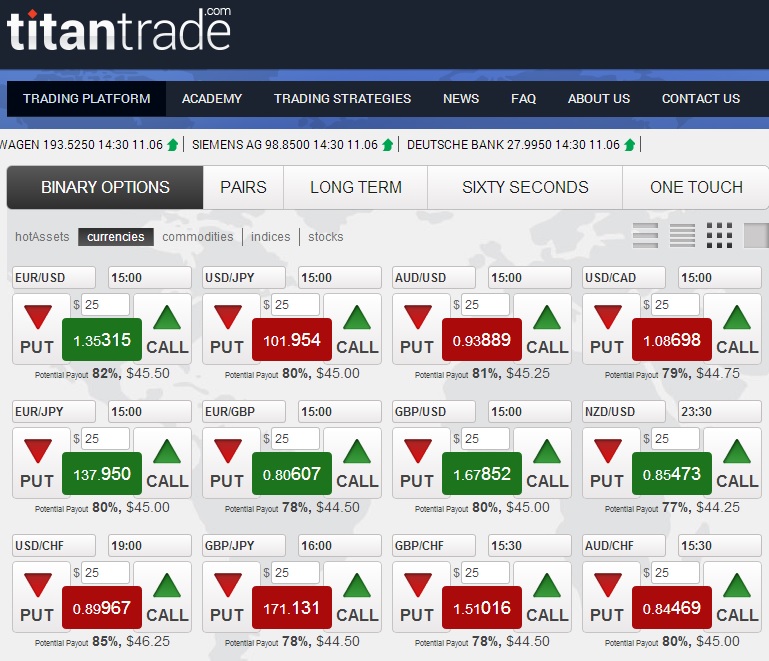 No. of Assets and Expiry time
TitanTrade offers a number of trading options on a daily basis and traders are free (even encouraged) to diversify the types of investments they make on the market – from fast and furious 60 second trades, to long term "ladder" trades with increasing payouts and a host of other options. TitanTrade also offers an innovative tool called "Tradefollow" which is geared towards traders that happen to be beginners or simply those traders that have little time on their hands and are therefore limited in their chance, to properly study the markets before making trades. The tool offers any trader the chance to mimic the trades made by other successful traders automatically, increasing their chances of profit.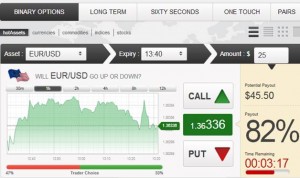 The broker also provides traders with insurance through its Rollover, Double Up and Buy Me Out features, so when you are out of the money you can do your best to receive profit or save a percentage of your investments.
When employing the long term platform you are able to operate in a setting which is more like the stock market. With this platform the expiration date of your trade is minimum 3 days, and though the time to earn profits may seem longer, traders are able to use their skills and knowledge in a more relaxed way.
The 60 seconds trading platform offers the thrill of fast returns of up to 70% with a minimal trade of just $5. And through a team of top-of-the-line professionals you get an expert advice on how to gain the most.
And with One Touch trading becomes even more profitable. The minimum purchase amount is $50 available to you Monday through Friday.
With the Ladder trading platform your potential profit can reach an unbelievable 1500% on investment due to the constant market movements that you can employ through analysis in your trading. And with the Trade Follow you can completely rely on the successful traders by imitating their trades to make money by a single click of a button.
And if you prefer comparing assets then the Pairs platform is just for you. By employing it you can compare, for instance, Gold and Silver to choose the best performer out of the two and gain on your prediction.
Commissions, Support (Customer Service) and Effective return
"Your ambitions have no boundaries" (Titan Trade slogan) with professional support from Titantrade in 9 languages: English, Russian, Arabic, Spanish, Portuguese, German, Italian, French and Chinese.
Support can be reached via Live Chat, Web form, email or over the phone. On the site at the Titantrade Academy you can read up-to-date trader tactics, browse through educational material for beginners and advanced users, read an in-depth course on binary options, as well as a Binary E-book, or visit a Webinar.
Professional traders provide you with the latest news in the Daily and Weekly Market Review Section. You can also take part in the Champions League Competition to win a valuable prize for your trading efforts.
Deposit and Payment
Deposits can be made via most credit/debit cards, wire transfers and Skrill MoneyBookers.
The Titan Trade minimum deposit amount is at $250. Traders can select trading packages based on deposit amount. At the minimum deposit level traders receive all of the education materials and market news. At higher deposit level traders will get more individualized trading assistance.
Titantrade offers four types of accounts starting with the Mini Account, followed by the Standard Account, Deluxe Account and Platinum Account. Each account requires a specific deposit amount and the bigger the deposit – the larger the advantages.
With the Mini Account ($250-5000 deposit) you get 24/7 support and an exclusive e-book to boost your trading skills.
The Standard Account ($5001-35000 deposit)  you get a full asset list, trading app, intro call from personal manager, access to account manager and trial session with the analyst, as well as all the perks of the basic account.
With the Deluxe Account you do get a special treatment ($35001-50000 deposit) with an addition of one-on-one trading sessions, live trading signals and limited sessions with professional analyst.
If you are looking for a tailor made account, then the Platinum Account ($50000+ deposit) offers immediate withdrawals together with weekly sessions with analyst and higher payouts.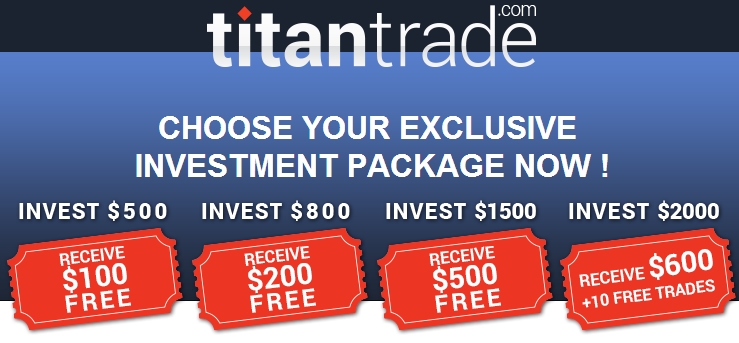 Most withdrawals are processed within 48 hours. Credit/Debit withdrawals are up until deposit amount. Profits are sent by wire transfer. You have an unlimited amount of free withdrawals but in order to comply with anti money laundering measures, traders have to adhere to the strict compliance policy adopted by Titan Trade. This requires traders to provide all the necessary documentations as proof of their identities.
Website Extra's
The foundation of TitanTrade is a broad and excellent education center, one that is built to aid new traders in learning the tricks of the trade, but can also serve to expand the knowledge of traders with experience. There are webinars on a variety of topics – from the very basic foundations of binary options trading, through managing your money and investments properly while remaining attentive to the various risks the market holds, all the way to technical analysis or high profile.
Titan Trade comes with so many advantages, which is why it is among the most preferred companies in the industry of binary options trading. Some of the advantages that you can enjoy with this platform are:
They have a wide selection of assets.
They provide several helpful resources and materials.
They are available in so many languages.
Their customer service support is highly reliable and is available 24/7.
They have a very user friendly and highly intuitive interface.
They are available for US Traders.
Daily analysis
Not enough deposit methods
They do not provide assets list.
Conclusion
TitanTrade has certainly taken steps to remain at the front of the binary options brokers pack, offering advances and services that many other brokers do not, making trading with them an option you should definitely take a serious look at as you search for a broker. We hope this TitanTrade review has made your decision regarding picking a binary options broker much easier, because if you open an account with this broker now, you will experience all the excitement this kind of trading has to offer!